Elsa Frozen Child Costume
Ref: 11387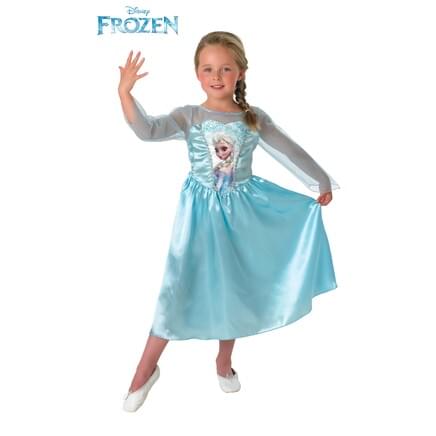 Elsa Frozen Child Costume
Ref: 11387
Product information
Includes dress
Not includes shoes

Elsa Frozen Child Costume
Includes a light blue dress with the a picture of Elsa printed on the top and semitransparent sleeves.
Elsa Frozen Child Costume
Ref: 11387
Size guide
| European Size | American Size | Height | Waist | Chest |
| --- | --- | --- | --- | --- |
| 3-4 years | Small (4-6) | 44 - 48 | 25 - 26 | |
| 5-7 years | Medium / Std (8-10) | 50 - 54 | 27 - 30 | |
| 8-10 years | Large (12-14) | 56 - 60 | 31 - 34 | |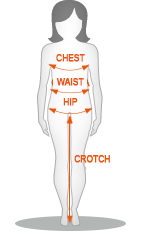 Please, take note:
Approximate measurement in inches.
Measures expressed concern the person who will wear the costume, do not refer to measures of the costume.
Not all costumes are available in all sizes. Please refer to the individual product sheet to check the sizes available.
If you are a very tall, stout, or if you are in doubt between two sizes, it is best to select the larger size because it is normal to feel baggy.
Elsa Frozen Child Costume
Ref: 11387
Shipping and returns
Once the payment is processed, you will receive the product in the term set next to the button "Buy".
In order to send in that period, it is necessary that the order is placed before 16:00 h. After that time, your order will be considered as made the next day, due to transportation issues. The weekend days and public holidays are not included in this term, weekdays only.
If next to the icon "Buy" is the word "Available" means that the product is currently available, and is likely to be sent in time given. If you see the "Out of stock - Notify me" button instead of "Buy", you can check the size is out of stock, and it will appear "size out of stock". In this case, you should ask for their availability through the tab that will appear when you press the button "Out of stock - Notify me". We will try to respond as quickly as possible.
If you need a product with a certain speed, or have a specific query, you can use the contact form on product data sheet, or on the general section "Contact". We will respond as soon as possible, or, at most, to the resumption of our business hours (MF, 9:00 - 15:00).
Elsa Frozen Child Costume
Ref: 11387
Methods of payment
Credit card
Pay your order securely with major credit cards: VISA, VISA Electron, 4B, Mastercard or American Express.
With an Authenticated Credit Card (Verified by Visa / MasterCard SecureCode). Funidelia not store at any time the data of your card, everything is done through the bank's payment gateway.
If you have a credit card provided by your bank, specifically for online shopping, with a password that allows you to authenticate the online payment, this is the best option for paying online orders. This method of payment is totaly online, so the orders are completely charged when you end the purchase.
Paypal
Your order will be shipped as soon as we receipt a PayPal confirmation of its full payment.
Bank transfer
Your order will be shipped as soon as we receipt a transfer of its full amount. Usually take 1-2 days to be reflected in our bank, so it's possible that the shipment is delayed that deadline. Your order will be shipped when the process is complete. All transfers must be made in €.
Bank details:
Bank: Santander

Bank account: 0128/0460/11/0100022354
IBAN: ES7300492456232614780476

BIC / Swift: BSCHESMM o BSCHESMMXXX
In some cases (lack of customer data or wrong data) Funidelia Funidelia reserves the possibility to request customers a specific payment in case not proven conclusively the identity of the buyer, or documents that demonstrate the truth of payment.
Regardless of the payment method you choose, shipping cost, delivery time and shipping conditions are the same.
All payments must be billed in €.
Elsa Frozen Child Costume
Ref: 11387
Technical specifications
| | |
| --- | --- |
| ID Product: | 11387 |
| Material: | Information not available |
| Care Instructions: | Information not available |
| Chance of return: | Yes |
| Available internationally | Yes |
Elsa Frozen Child Costume
Ref: 11387

£ 16.52
Assessment: 4
Related product categories:
Sale: Huge discount on Kids Costumes
,
Kids fancy dress ideas
,
Storybook & Princess Kids Fancy Dress Costumes
,
TV & Movies Kids Fancy Dress Costumes
.
Related Official Licenses
Frozen
,
Disney
.
Elsa Frozen Child Costume
Ref: 11387
Questions about this product:
These are the most frequently asked questions:
¿De qué material está realizado el disfraz?
Por norma general los disfraces están confeccionados en materiales sintéticos que le otorgan a los disfraces y accesorios una mayor usabilidad. En algunos casos específicos pueden variar. Puedes consultar toda la información que tenemos al respecto en la columna a la izquierda del producto en la opción "Información del Producto"
¿Qué incluye el disfraz?
Debajo de nuestra imagen aparece un cuadro en el que te decimos qué incluye ese disfraz o complemento. Si tienes más dudas, ampliamos la información en la opción de la columna a la izquierda de la imagen "Información de producto"
On the web appears OUT OF STOCK- NOTIFY ME. How can I buy it?
Many times our official suppliers and manufacturers can't give us the date when it will be available. It is recommended that you tab on the option "NOTIFY ME" you will find ont the right next to the image. When we receive the product we will let you know by email.
On the web appears OUT OF STOCK- NOTIFY ME. How can I buy it?
Many of our products come from official suppliers or specialized manufacturers outside of the United Kingdom. We need a time for the international transport of goods. We strive to send your order in the shortest possible time and adjusted to the maximum number of days of delivery as shown on the Web page.
Not among these?
Check our
FAQ
, where you could check some other frequent questions and answers