Original, Unique and Fun Costumes for Adventurous People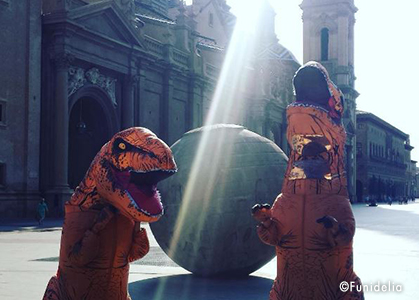 The most original and fun costumes await you just around the corner. In this section you will find a wide selection of the most fashionable original costumes. If you want to be the center of attention, the king/queen of the party or the funniest person around, here's your chance!
If you are looking for a funny costume because you have to organize a bachelor party or bachelorette party, or simply because you are a joker and love to be in the mix of it all, we have what you need. You can be a roast chicken, a tube of toothpaste, a vending machine ... These and other original and fun costumes will make everyday objects become the perfect style for the occasion.
Opposuits one of the most original costumes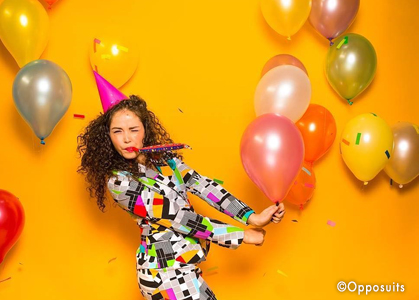 If you like to sail through life with a touch of humour then the original Opposuits are just made for you! They're a mix between a costume and a tuxedo and consist of a blazer, suit trousers and a matching tie. All of this comes with, not only with your typical geometric pattern but with original prints and detail. Flamingos, palm trees, hearts, clouds are just to name a few. Any object you can think of can be transferred onto an opposuit!
Opposuits are the perfect choice for someone who doesn't feel exactly comfortable dressed up but at the same time doesn't want to feel out of place at a fancy dress themed event. They'd even be a great option for a wedding as well for women as we've got opposuits for women which includes a skirt and a jacket
These fun costumes are also ideal for specific holidays or themed parties for example, St. patrick's day, Christmas or for Halloween. We've also got Batman, Superman and Star Wars themed suits
Carry Me Costumes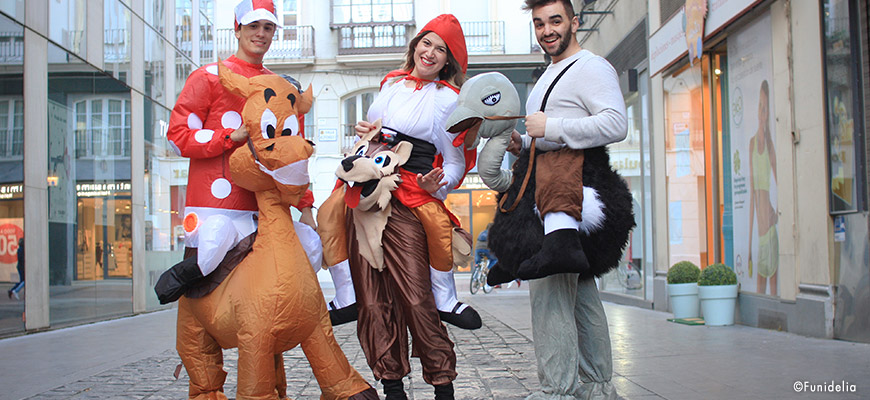 You'll experience maximum fun with our Carry Me costumes. They are the most original costumes you can find. It's a one piece inflatable suit of an animal carrying a human on top with false legs attached. You can be a jockey riding a horse, a wolf taking Little Red Riding Hood or an ostrich giving someone a ride around the city.
Laughter is guaranteed with these costumes at any fancy dress event.
Videogame Costumes: Bring virtuality to life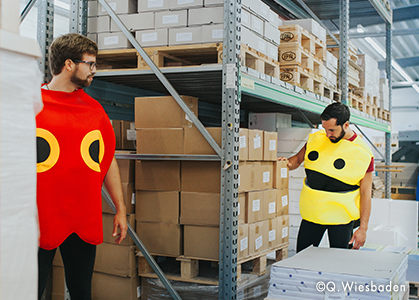 Get as many points as you can, be careful you don't fall into the water, run from the bad guys, jump and collect stars in the air… Yes, life can be like a videogame. The more steps you take and the more you advance the more challenging life becomes.
Many young people as well as adults have been hooked on video games throughout their life. Or, maybe, sitting in front of the television with the controls in your hand was not the first thing you did when you came home from school?
Now is your chance to become one of the characters you controlled on the TV for years. Super Mario, Pokemon or Mortal Kombat to name a few. Or maybe you were more of a tetris gamer, all of these can be found on Funidelia!
Back in the 80's, originating from Japan, two plumbers with italian names entered the scene of video games. Known as Mario and Luigi, the lead characters of Super Mario. Years later and also from Japan, Pokemon became the next big video game hit with the young crowd.
From the 90's, on the other hand, The US took lead in the creation of videogames and are the creators of some of the most famous video games to date - like Mortal Kombat, Angry Birds, Pac Man or Assassin's Creed. You can be sure to find costumes of these video games in our online catalog. Don't worry, you won't need to overcome obstacles or fight off enemies, we have them at your disposal. Dress up as a hero or villain and share your passion for video games with the world, whether it's carnival or a themed costume party.
Fun costumes with a high dosage of cuteness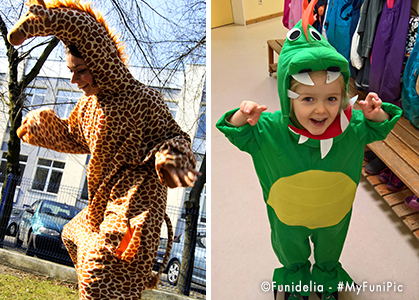 With our Kigurumis you're guaranteed to be comfortable and funny at the same time. These costumes consist of a single piece pyjama like attire. Besides, they are so loving that nobody will be scared of you even if you are a wild beast. The only thing you will provoke is the desire to give you a hug. These type of animal costumes are very popular for obvious reasons; they protect you from the cold, are as comfortable as pajamas and you can easily take them off and put them on
Whether you want to just to wear it around the house or you actually have a fancy dress party around the corner - these animal costumes will definitely make it a success.
These costumes are also a perfect idea for those who celebrate halloween or carnival in colder regions. Protect yourself from the frosty nights with this one piece suit. It will cover you from head to toe and you can even wear your own clothes underneath. In less than a minute you can transform from an animal to a human and vice versa
Edible and Funny Costumes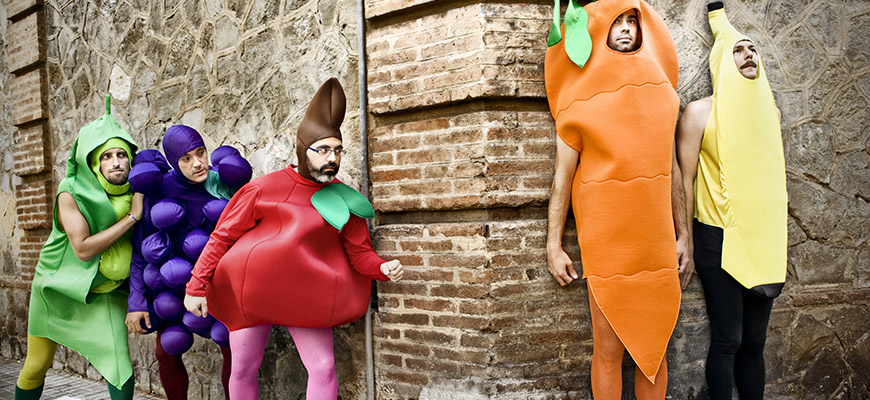 Speaking of fun costumes, can you imagine yourself dressed up as a tomato or carrot? It's like all of a sudden food comes to life and takes on a new dimension. You could be a giant banana or any other giant vegetable or fruit. Also, if you're dressing up in groups you could make up a very healthy combination. You'll have all the ingredients to make a delicious juice or soup at your fingertips.
Snacks, cakes and candies are also a few options among our catalog of food and drink costumes. For a duo, how about fried eggs with bacon? The best double costume. You can even take your dog as a companion to the party. You'll be the fries and he or she can another type of dog, a hot dog!
As well as 100% fun guaranteed these costumes are also a good choice for promoting business' for grocery stores, coffee shops, restaurants…
Fun Costumes perfect Hen and Stag do's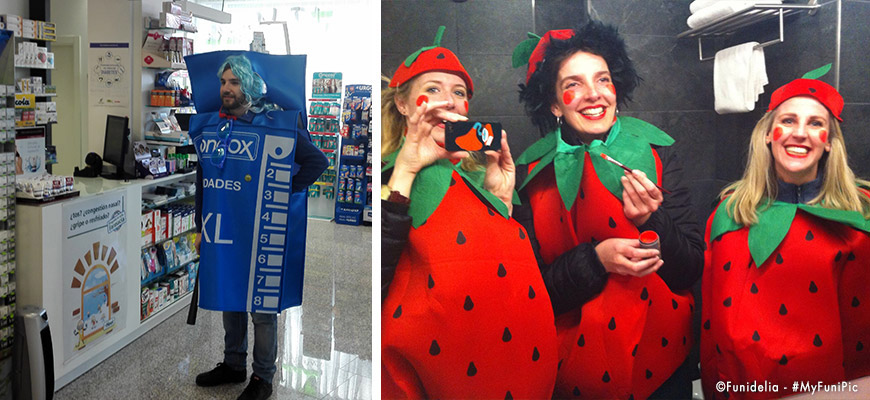 If it's anything that distinguishes a hen or stag party from a normal party it's definitely the gaudy and striking costumes the main man or woman at the party wears. It's always up to the party planners, aka: friends and family to make the future wife or husband the centre of attention with something embarrassing, of course.
At Funidelia you'll find a wide selection of hilarious costumes which will inspire you to organise a wicked hen or stag party. In our catalog you can find super eye catching costumes as well as more simpler costumes that aren't so extravagant. We've got some for men and for women, for the daredevils and for the shy ones too.. Can you imagine your friend dressed up as a beer keg or an appetising cupcake?
These are just to name a few of the moderate ones. If you like a little spice in your parties don't worry we've got sex related and penis and vagina costumes that would suit you perfectly
Party Ponchos for those rainy days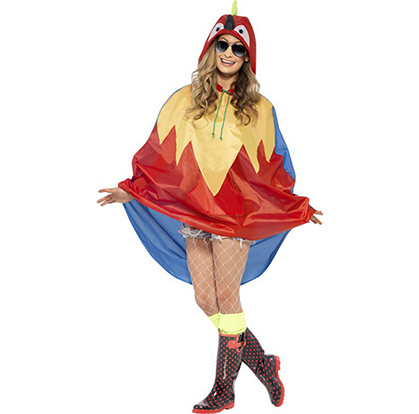 If you haven't ever needed a poncho in your life, it's pretty much because you haven't been to a festival or an outdoor event before, because let's be realistic what's a festival without rain in the north of Europe?
This is a great way to be comfortable, dry and dressed up at the same time- Party poncho is the solution!
The name says it all! You can move, its waterproof and you be camouflaged and blend into the background, so if the party gets out of hand no one will know what you get up to.
Mexican, zebra, little duckling ... And also in childrens sizes. Our catalog offers a wide variety of these original costumes.
Cool T-shirts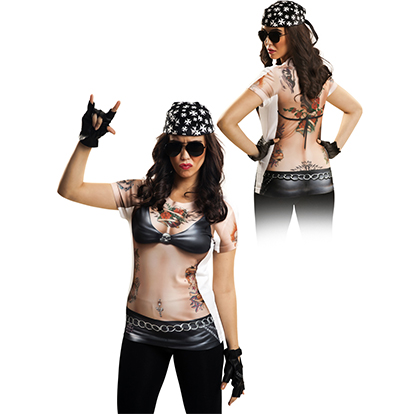 Original and comfortable. A perfect description for our screen-printed t-shirts that you will find in our catalog. You can pretend you're wearing a bikini when in reality you're actually dressed. You can pretend you're muscly when you're really not or that you have a fully tattooed torso.Or you can be batman or batwoman with just a t-shirt. Well not just any t-shirt, a cool t-shirt
Female Costumes for Men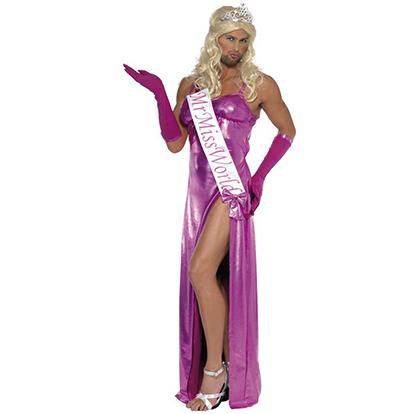 No matter what fancy dress party you attend, you are guaranteed to find at least one or two men dressed up as a woman, usually dressed provocatively and sexy. Transvestites, drag queens, housewives, girlfriends, nuns , cheerleaders or playboy bunnies are some of the options available from our great selection online.
Unleash those inner urges and let the feminine side in you out. Carnival, halloween, Stag parties or Gay pride are some perfect occasions to get your girl on.
Costumes for Groups, the More the Merrier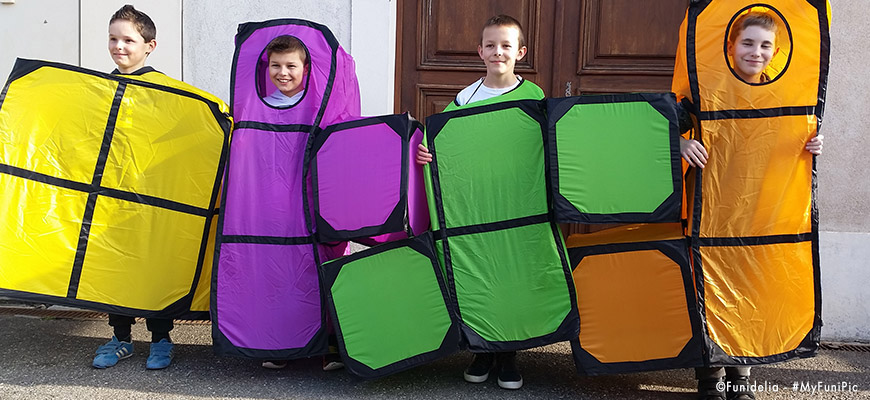 Most of the fun, original costumes you'll find on Funidelia are designed for groups and group parties. Because, let's face it, life's more fun with a bit of company. It's always a group of friends dressed up that really stand out and catch people's eye. As they say: the more the merrier.
Become Power Rangers and fight off the evil or you can rescue Princess peach just like the Mario Bros - Mario and Luigi
As well as being in the centre of attention, you're sure not to get lost in the big crowds as you'll definitely find your peers.